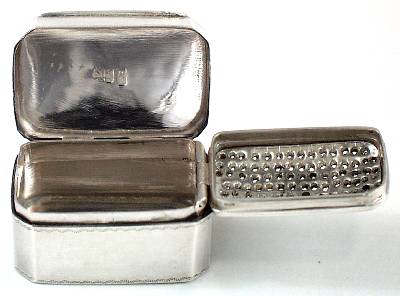 The November, 1907 issue of The Connoisseur: a magazine for collectors, illustrated features an article by Guy Oswald Smith entitled "Silver Nutmeg Graters or Spice Boxes". Before reading same, I was wholly ignorant of the 19th Century habit of carrying a small nutmeg grater about one's person for purposes of spicing food and drink, and (according to L. F. Newman's Folklore) as "a carminative to relieve flatulence and dyspepsia". My personal experience with the noxious nut, and the similarity these fascinating gewgaws have to snuff boxen, leads me to suspect it served other ends. In any case, it's a habit which could bear revival, if only for the pleasure to be taken in the equipage.
This entry was posted on Saturday, January 24th, 2009 at 12:30 am and is filed under
Victoriana
. You can follow any responses to this entry through the
RSS 2.0
feed. You can skip to the end and leave a response. Pinging is currently not allowed.